Women diagnosed with breast cancer begin with a vital decision-making process surrounding their health care that can have profound effects on both their emotional and physical quality of life. Dr. Melissa Crosby has over 15 years of reconstructive surgery experience and is passionate about empowering breast cancer survivors and ensuring that they possess the knowledge they need before making decisions about their treatment. Dr. Crosby provides compassionate and personalized care and works with patients and physicians throughout Texas as well as nationally and internationally. If you have recently been diagnosed with breast cancer or are unsatisfied with the results of a previous breast reconstruction procedure, contact Dr. Crosby to begin your journey to wholeness with breast reconstruction.
Candidates
Candidates for breast reconstruction surgery are women who have had or are going to have mastectomy or partial mastectomy (lumpectomy). Breast reconstruction surgery can be performed in conjunction with a mastectomy or at a later date, depending on your:
Stage of breast cancer
Medical condition
Personal preferences
Lifestyle factors
Need for radiation therapy
Procedure
Breast reconstruction is performed to recreate all or part of your breast that is surgically removed. Dr. Crosby will examine you and your cancer treatment plan to determine what reconstructive option will give you the best aesthetic and symmetric outcome during your survivorship phase of recovery. Options may include using your own tissue from another part of your body or involve the use of an implant.
Mastectomy
Mastectomy involves the surgical removal of breast tissue, and it is the most common treatment for breast cancer. Women who have a high risk of developing breast cancer may also choose to undergo this procedure as a preventative measure. Depending on the patient's unique circumstances or preferences, breast reconstruction may be performed at the same time as the mastectomy or may need to be delayed and performed at a later time after the patient has healed or completed additional cancer treatments.
Implant Method
The implant based approach to breast reconstruction involves initially using a tissue expander and then placing the implant. A tissue expander is a balloon-like device that is positioned beneath the pectoral muscle and gradually filled with a sterile saline solution for several weeks. Once the skin has stretched enough to accommodate a breast implant, Dr. Crosby will replace the expanders with implants during a second surgery.
Flap Method
For patients who are not candidates for an implant based approach to reconstruction, who have had radiation therapy, or who want to use their own tissue and avoid implants, the use of their own tissue (flap method) may be recommended. This technique involves reconstructing the breasts by removing flaps of tissue from the back, abdomen, or buttocks and transferring them to the chest by either rotating them on their own blood supply or reconnecting their blood supply, known as free microvascular surgery. Dr. Crosby is a fellowship trained microvascular surgeon who specializes in this technique. Depending on how substantial the grafted tissue flap is, breast implants may or may not be used for this type of breast reconstruction.
Nipple Reconstruction
While the nipples can sometimes be spared during a mastectomy procedure, it is common to remove them to prevent the recurrence of breast cancer. Many patients seek nipple reconstruction to give their breasts a more natural and pleasing appearance. Tattooing the areola area with a natural, darker color and adding appropriate shading can create the illusion of a complete nipple-areolar complex.
Recovery
Breast reconstruction patients will experience some postoperative bruising and swelling. You must wear a special support bra to minimize swelling as you heal. Most of the swelling should dissipate within six weeks, but residual swelling can last for as long as six months. Some discomfort can be expected during the early stages of recovery. Pain can be managed by taking oral medication, as recommended by Dr. Crosby. You will need to rest and limit your activity during the initial stage of recovery, but some women feel well enough to resume working two weeks after their procedure. Before your scheduled surgery, you will be provided with aftercare instructions that detail when you can continue your usual exercise routine and daily activities.
Results
Deciding to undergo breast reconstruction surgery, a procedure that restores the breasts to a natural and more feminine appearance, is a rewarding experience for many breast cancer survivors. During breast reconstruction surgery, every effort is made to create precise and meticulously placed incisions. Having a qualified and knowledgeable reconstructive surgeon like Dr. Melissa Crosby at your side during this journey guarantees that you will have the tools and knowledge empowering you to make important decisions individualized to your body and treatment needs. Following all aftercare directions and not exposing your incisions to direct sunlight can help reduce the chance of having noticeable scars. Changes in sensation are a common side effect associated with breast reconstruction. Most patients report that the benefits of breast reconstruction outweigh the risk of scarring, but any scars are likely to fade over time.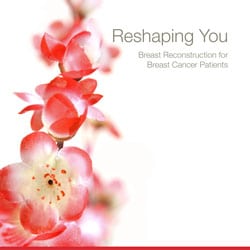 For more detailed information
see the educational guide that Dr. Melissa Crosby, a recognized expert in breast and cancer reconstruction, wrote while at the University of Texas MD Anderson Cancer Center.